Custom Parking Permits Decals, Rear View Mirror Hanging Permits, Hang Tags, Stickers and Clings
When you require your tenants, employees, students, or event attendees to have parking permit tags, we've got easy-to-transfer Hang Tag Parking Permit Tags.
Were you looking for Static Cling/Clear Decal Parking Permit Stickers?
Or maybe you really needed White Vinyl & Reflective Parking Permit Decals?
---
Downloadable PDF Templates for Parking Permit Hang Tags

2.69″ x 4.75″ 4CP Hang Tag
2.75″ x 4.75″ Shield
2.75″ x 4.75″ Round
2.75″ x 4.75″ Standard
2.75″ x 4.75″ Octagonal
3.375″ x 9″ Giant
2.75″ x 2.875″ Mini
4.75″ x 2″ Hidden
4″ x 3.5″ Jumbo
Die Cut and Square Static Cling/Clear Parking Permit Stickers
White Vinyl & Reflective Parking Permit Decals
---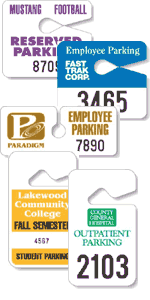 Hang Tag Parking Passes are screen-printed on either .015" or .035" durable yet flexible Polyethylene, either plain white or with reflective, chrome, or prismatic background.
These Parking Permits are available with the following options:
FREE set-up on most Tags/Hangers
9 Standard Shapes & Sizes
Custom Color Matching & Pantone Color Matching
Copy and/or Color Change Discounts
Back-printing
Consecutive Numbering & Bar Codes
Prismatic and/or reflective backgrounds
Foil Stamping
Ship in approx. 5 to 7 working days
Rush Orders & Expedited Shipping
---
Hang Tag Parking Permits can be used for: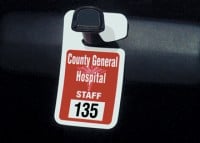 Schools, Colleges, and Universities
Sports Arenas
Handicapped Parking Permits
Homeowner Associations
Employee or Tenant Parking
Hospital Parking
Parking Garages
Entry Permits
Boat Permits
…and More!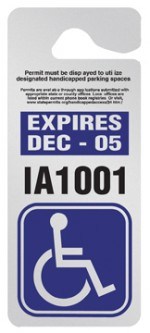 ---
The Visigraph 100% Satisfaction Guarantee
We pay careful attention to every detail on every order we receive, and our 100% Satisfaction Guarantee is just what it says…you'll love our decals or we'll re-do them. It doesn't happen often, but hey, we're human too! Rest assured, though, that if it does, we'll fix'em free of charge and with no hassle.
---
Other products that you may be interested in: