Signs for Security Companies, and Decals, Stickers, Static Clings, and Window Labels with Reflective Properties
Place Security Stickers & Decals on your client's windows and doors along with Security Signs outside the home or business to let the bad guys know this property is being protected!
---
Security Signs & Decals Downloadable PDF Templates

.055″ Polyethylene Security Signs are Available in White or Reflective
9″ x 9″ Octagon Sign
9″ x 9″ Shield Sign
9″ x 9″ Circle Sign
9″ x 9″ Square Sign
9″ x 9″ Badge Sign
9″ x 9″ Diamond Sign

Security Stickers are Available in White Vinyl, Clear Polyester or White Reflective

3″ x 3″ Octagon Decal
3″ x 3.5″ Shield Decal
3″ x 3″ Circle Decal
3″ x 3″ Square Decal
3″ x 3″ Badge Decal
3″ x 3″ Diamond Decal
---
Security Alarm Signs & Stickers are available with the following options and/or features: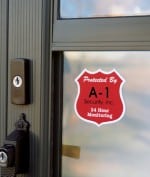 FREE set-up
Split backing on most Decals
6 Standard Shapes
3 Standard Decal Materials
Standard Decal Size 3" x 3"
2 Standard Sign Materials
Standard Sign Size 9" x 9"
Custom Color & Pantone™ Color Matching
Copy and/or Color Changes
Multiple Copy and/or Color Change Discounts
Sequential Numbering, Bar Codes, and Sequence Changes
Ship in approx. 6 working days
Rush Orders & Expedited Shipping
---
Home and Commercial Security Decals & Stickers can be used for or purchased by: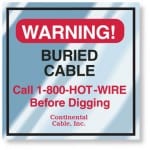 Home Security Companies
Commercial Security Companies
Alarm Warning Decals
No Trespassing Stickers
Video Warning Decals
Neighborhood Watch Stickers
Underground Cable Warning Decals
And More!
---
Note Regarding Clear Decals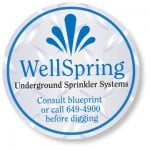 Under most circumstance any colors must be backed with white to prevent the colors from appearing "washed out." The white can back-up just the art or the entire background. In cases where the graphics or copy is thin or small, a "halo" print may be required.
---
The Visigraph 100% Satisfaction Guarantee
We pay careful attention to every detail on every order we receive, and our 100% Satisfaction Guarantee is just what it says…you'll love our decals or we'll re-do them. It doesn't happen often, but hey, we're human too! Rest assured, though, that if it does, we'll fix'em free of charge and with no hassle.
---
Other products that you may be interested in: